Welcome to the first 52-Week Photography challenge! To kick off 2023, we're launching this challenge with the goal to become a better photographer. Each week you'll be presented with a photography challenge that are part of three main categories: a theme, composition, or a feeling. You can experiment with different photography techniques and styles to see how they affect the overall mood and impact of your images.
This challenge will push you to shoot in ways you probably haven't shot before. You will learn to make good use of various compositions, tell stories and convey emotions with your images. Ready to stretch out of your comfort zone?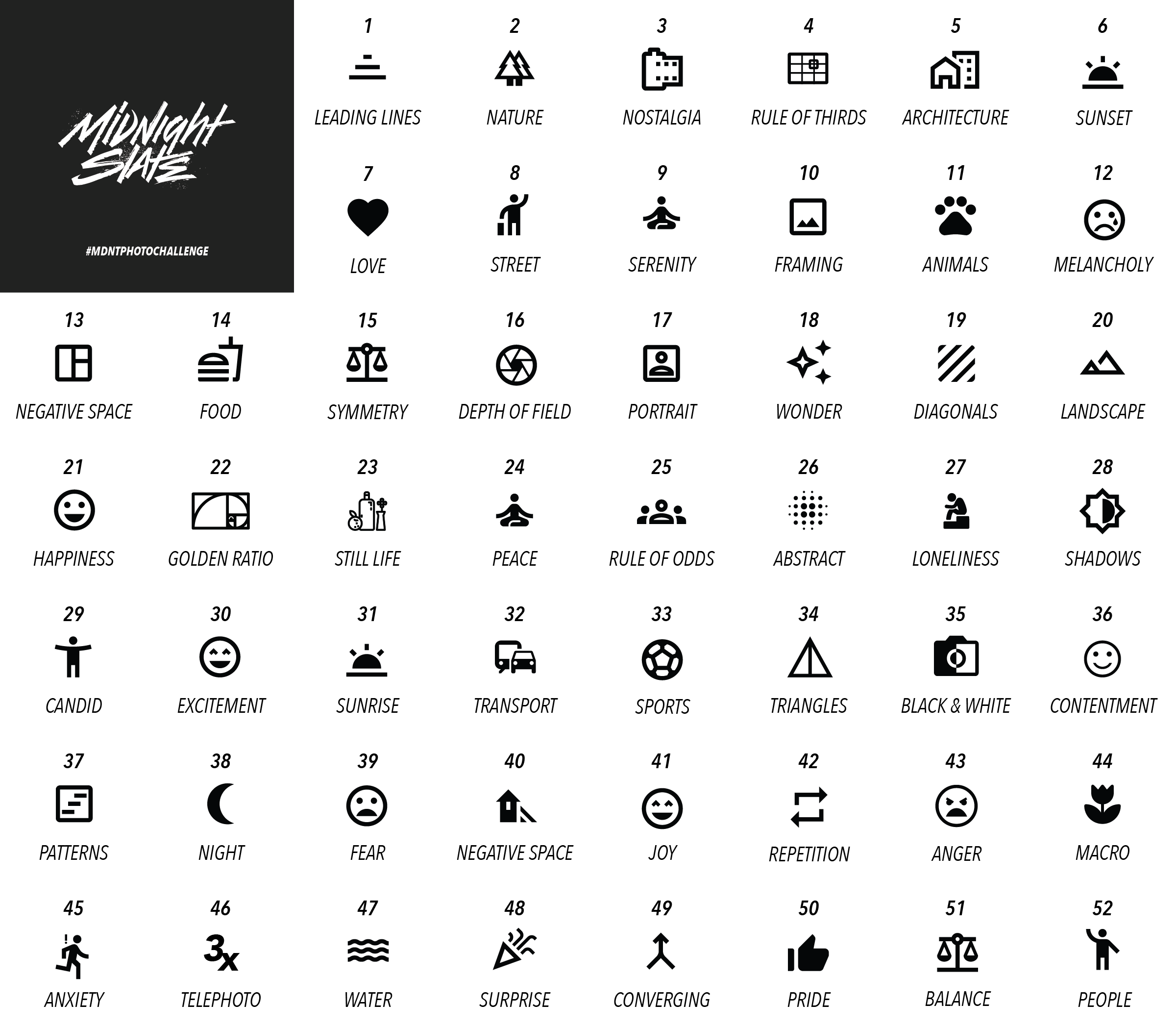 Add to your Calendar
We've created a calendar you can import to keep track of the weekly challenge. We consider a week to start on Sunday and end on Saturday.
Three Categories of Photography
Each of the 52-weeks' challenges fall into one of three categories: theme, composition, and feeling.
Theme: This category will be extremely broad with various subjects. You will have a ton of creative freedom within these themes!
Composition: Composition is how a photographer arranges visual elements within their frame. It is how one brings focus to a subject. Powerful composition can truly make a powerful image.
Feeling: These weeks can be interpreted two different ways: capture a feeling or convey a feeling with your images. It is difficult to do, but the goal for most photographers to ensure the viewer feels something when observing an image.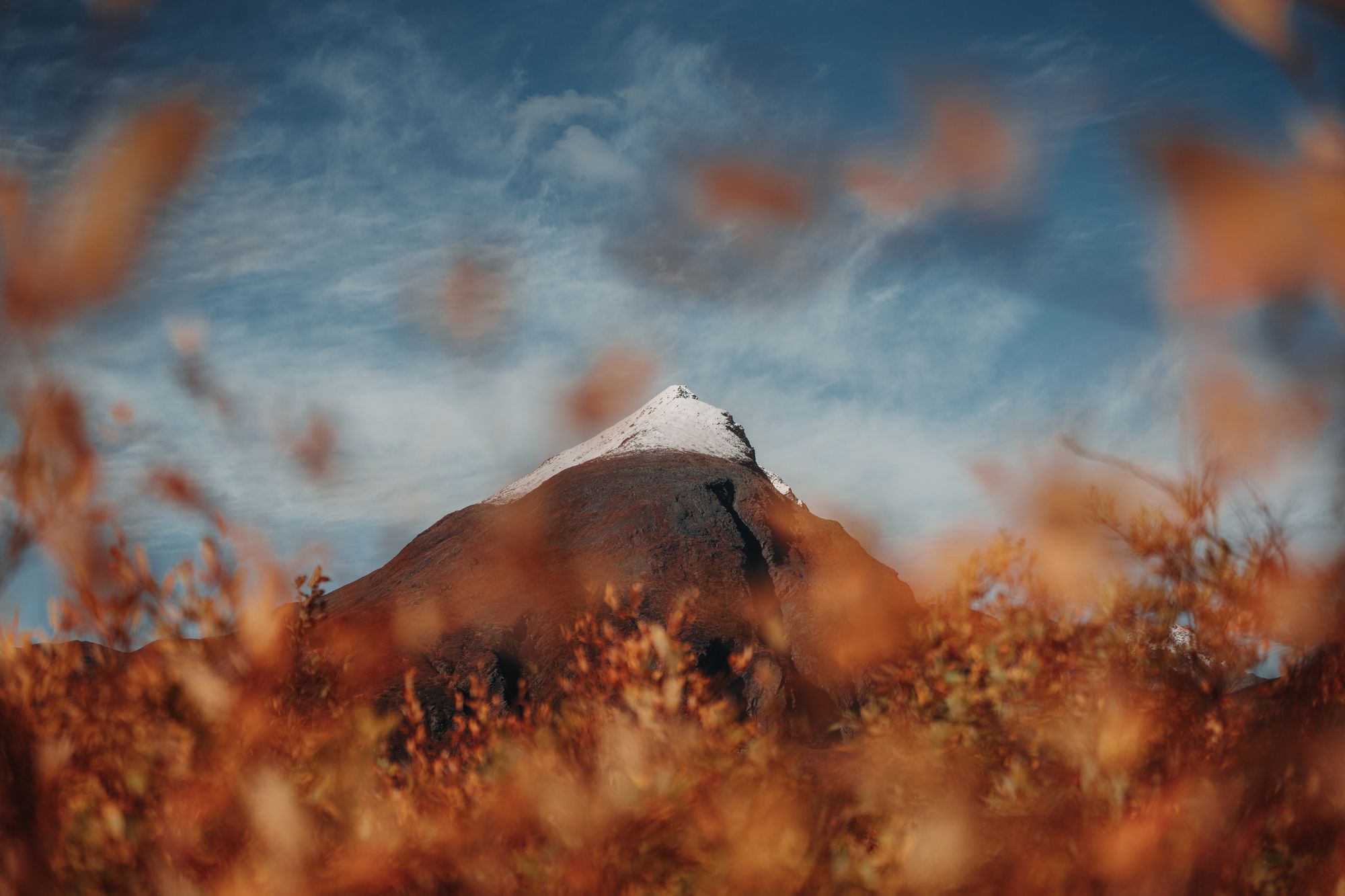 Your 52-Week Assignment
Week 1: Composition - Leading lines
Week 2: Theme - Nature
Week 3: Feeling - Nostalgia
Week 4: Composition - Rule of Thirds
Week 5: Theme - Architecture
Week 6: Theme - Sunset
Week 7: Feeling - Love
Week 8: Theme - Street
Week 9: Feeling - Serenity
Week 10: Composition - Framing
Week 11: Theme - Animals
Week 12: Feeling - Melancholy
Week 13: Composition - Negative Space
Week 14: Theme - Food
Week 15: Composition - Symmetry
Week 16: Composition - Depth of Field
Week 17: Theme - Portrait
Week 18: Feeling - Wonder
Week 19: Composition - Diagonals
Week 20: Theme - Landscape
Week 21: Feeling - Happiness
Week 22: Composition - Golden Ratio
Week 23: Theme - Still Life
Week 24: Feeling - Peace
Week 25: Composition - Rule of Odds
Week 26: Theme - Abstract
Week 27: Feeling - Loneliness
Week 28: Theme - Shadows
Week 29: Theme - Candid
Week 30: Feeling - Excitement
Week 31: Theme - Sunrise
Week 32: Theme - Transport
Week 33: Theme - Sports
Week 34: Composition - Triangles
Week 35: Theme - Black and White
Week 36: Feeling - Contentment
Week 37: Composition - Patterns
Week 38: Theme - Night
Week 39: Feeling - Fear
Week 40: Composition - Negative Space
Week 41: Feeling - Joy
Week 42: Composition - Repetition
Week 43: Feeling - Anger
Week 44: Theme - Macro
Week 45: Feeling - Anxiety
Week 46: Composition - Telephoto
Week 47: Theme - Water
Week 48: Feeling - Surprise
Week 49: Composition - Converging Lines
Week 50: Theme - Pride
Week 51: Composition - Balance
Week 52: Theme - People
How to Participate
To participate, you only have to capture one photo a week, but it is encouraged to get out there and push your boundaries to make several images for each weekly challenge. This challenge is for you to take on and become a better photographer.
💡
Your photo should be taken within the Sunday through Saturday time frame. Don't reuse old photos!
We encourage you to become a member of Midnight Slate, it is free to do so. Throughout the challenge we will be sending out inspiring features, tips and tricks straight to your inbox.
Share and be Featured
At the end of every week, we will select photos submitted on social media to be featured in the Weekly Category Round-up. The article will go live on Monday every week right here on MIDNIGHTSLATE.COM. This is a fantastic opportunity for participants to see one another's work, offer constructive criticism, and be inspired.
You can subscribe for free to receive the best work on a weekly basis right to your inbox.
To share your work:
Specify the challenge in the caption along with the hashtag:
"Week 1 of the #MDNTPhotoChallenge – Leading Lines"
If posted to social media, tag us on the photo:
Glass: NickShaw
Instagram: @MidnightSlate
Twitter: @MidnightSlate
Who is this challenge for?
This challenge is designed to be for everyone at all skill levels with an interest in photography. You don't need a fancy camera to partake. Have a phone? You're in.
Beginners
This challenge has elements of the basics that every photographer should learn and start to master. It contains fundamentals that help you build a solid foundation to create compelling images.
Intermediate & Advanced
Apply what you already know, and push yourself outside your comfort zone. Sharpen your tools, and let's see if you're as good as you think you are. We'll be participating alongside you.
But most of all, Have Fun
By the end of this challenge, you will have a remarkable portfolio to look over and see real improvement in your images. I guarantee you'll have fun while challenging yourself within these categories.
Please let us know if you have any questions in the comments below, we're happy to offer guidance. Good luck.